SBT Forum Email List
---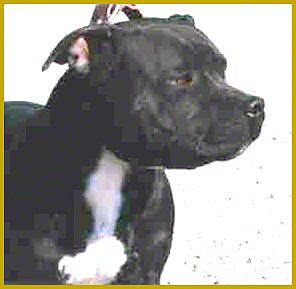 WELCOME TO THE FORUM
The Stafford Mall SBT Forum is dedicated to preserving the Staffordshire Bull Terrier in its classic form, both in confirmation and temperament.
Fun, educational and often controversial, it provides OPEN discussion for lively debate concerning all aspects of the history, present, and the future of the breed.
Because the Forum is neither censored nor moderated, Forumists should adhere to the practices of common courtesy by following the Stafford Catechism, below:
1) Never impugn the integrity of any Stafford person.
2) Never denigrate any Stafford in print or by word of mouth.
3) Never put one's own interests before the interests of the Breed.
Visit the SBT Forum home page on Yahoo Groups.
You may automatically subscribe/unsubscribe by entering your e-mail address in the form below and checking the appropriate box, then clicking the submit button.
Once subscribed, you may switch message delivery to "digest mode" (a single daily message containing the day's posts).
Send messages to the Forum at: SBT_Forum@yahoogroups.com
Enjoy the discussions.
Terry Stewart - Steve Stone
SBT Forum Administrators
---