Gameness?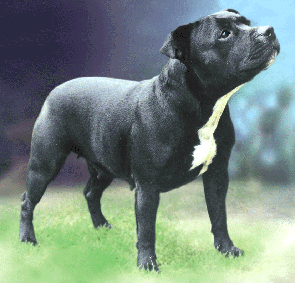 AM/SA Ch. Crossbow Emma Peel
GAMENESS
There has been much talk in recent times about whether or not the modern-day Stafford still possesses the "gameness" it was originally bred for.
Without actually deliberately fighting him/her, it is extremely difficult to assess whether your Stafford would indeed be "game" should the crunch come. Being a multiple-Stafford owner, there have been occasions when some of my Staffords have had serious disagreements. It is at these times when it may be possible to discover whether or not a particular dog is "game."
I can tell you here and now that I have never deliberately tested or fought Mindy ( AM/SA Ch. Crossbow Emma Peel ). She is, however, a bitch who relishes "trouble" and when in the mood, will actively seek it out. She does not mind whether it is a dog or a bitch that she guns for. In her last accidental fight, she and my male (Jack) got stuck into each other.
Jack is a strong boy with extremely impressive, huge teeth but he isn't as structurally sound as Mindy. He is over-angulated, his head is too large, his underjaw could be much stronger and his topline could be better. Jack's pasterns are weaker than Mindy's, but they aren't bad. Mindy is much fitter than Jack, although he is shorter-coupled than her, and she is 18 months older than him. Jack weighs about 6 pounds more than Mindy.
I was on my own at home when the fight started (over a bone) and, despite the fact that all of my dogs wear soft leather collars at all times, my efforts to strangle them off by their collars were fruitless. This is the one and only time I haven't been able to strangle off - it is usually a 100% guaranteed method in my opinion and experience.
After 45 minutes of unrelenting battling and me trying everything (including breaking sticks), I eventually picked them up, still firmly locked, and threw them together into the swimming pool.
Mindy can't swim and she let go instantly. In fact, I had to jump into the pool and fish her off the bottom where she was actually walking along for a few seconds.
Jack also released his hold when he hit the water. He didn't attempt to go back at it again with Mindy but swam to the steps and got out.
The injuries? Well, Mindy had one big puncture on her front right leg and a large gash with a few small punctures on the right side of her head. She was ready to go back at it again in a few seconds after recovering from the water-shock.
Jack was a complete and utter mess, and collapsed at the edge of the pool and had to be rushed to the vet - it was touch and go for sometime, whether he would live.
So, does the modern day Stafford still possesses the "gameness" it was originally bred for?
Yes, I certainly think so.
Juanita Hobbs
---
Back to

Stafford Exchange Content Page