Welcome to the StaffordMall Directory Page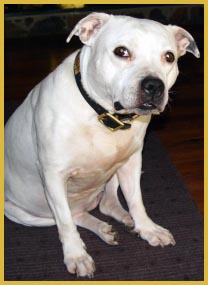 Our web site with Sires, Dams, puppies, and more articles
Letters to the editor
Archived articles
Online depository for past, present and future Stafford history.
The StaffordMall-Stoutheart Blogspot
The place to discover current happenings with Stoutheart Staffords, our breeding program, and just rambling Stafford thoughts.
Staffords, Pit Bulls, and just general news stories about dogs and other important links. Updated weekly if not almost everyday.
1935 standard
Current AKC, UK, SA...
History and discussion of the Stafford Standard
AKC links
Breeder guide to selling puppies
Breeding tips
Breed concerns - health wise
DNA Testing/Sampling
Dog show superintendents
Puppy buyers guide
What do food to feed your Stafford
A word about breeders
Guide to sales agreements and contracts
How to break up a dog fight
FASQ - frequently asked Stafford questions
Is a Stafford the right dog for you?
Micro chipping or tattooing?
Training your Stafford
Links to Stafford web sites on the World-Wide Web
Health Links
Sweating off the pounds
Poison Warnings & Control
Articles
Book Reviews
Anecdotes
The Protector
Origins of the Staffords
How I got my first Stafford
Books about the SBT
Amazon.com Affiliate Book Store
Founding of the breed in England
The first Staffordshire Bull Terrier Club in the USA
A work-in-progress
Importance of pedigrees
We need your Stafford Heroes story. Take a look and have Kleenex ready.
Kidz & Dogz Photo Page
Blood, Guts & Gophers
Breed Specific Legislation (BSL)
Letters and articles from The Stafford Exchange
BSL Links
Stories of successful rescues and re-homes
Listing of rescue links world-wide
Amazon.com Affiliate Pet Supplies
Recommendations and Cautions
Fencing
Kennel runs
Collars, harness and leads
---
Fun stuff...
~ Stafford Poker ~

Five Card Draw
Dog Years to Human Years to Dog Years Converter