ANTI-BSL SITES
Check Pet Defense for latest in government oppression pets and owners.
Important Anti-BSL articles here: Written In STONE
KC Liaison News for the SBT - Dave Levy's site
---
The United States War Dogs Association
---
Why Dogs Bite: A Guideline For Children
Preventing Dog Bites in Children
Dog-Bite-Related Fatalities - United States, 1995-1996 - breeds of dogs involved in fatal human attacks in the United States.
---
BSL and your DOG
Tory in dogfight to save breed
Dangerous Dogs Act 1991 (original DDA)
UK Dangerous Dogs (Amendment) Act 1997
State of California's NON-BREED SPECIFIC Dangerous Dog Law
---
---
News outlets
---
Another Stafford book from Steve Stone!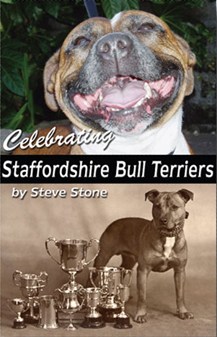 Only a few copies available UK and World orders: Go here to read more and order your copy!
Only a few new copies available: Staffordshire Bull Terrier Rescue
---