Staffordshire Bull Terrier

Welcome to the StaffordMall, the Staffordshire Bull Terrier site that spans the international Stafford scene. We offer up-to-date news, insider's scoop and feature articles by eminent breed writers on myriad subjects, including the history, breeding, training, feeding, care and conditioning of the Staffordshire Bull Terrier.
Among our some 200 pages of material, you'll also find dozens of pedigrees, interviews with Breed veterans, and insight into the best people dog on earth. Enter StaffordMall.com and discover "One of the finer things in life" - the Staffordshire Bull Terrier. -- come join the fun!
What's here? Just about everything (plus favorites from the original Stoutheart site and The Stafford Exchange) including:
Extensive pedigree collection.
Breeders Directory.
SBT Forum E-mail List.
The Whelping Box.
Speaking From Experience: by Steve Stone
Exercising your Stafford.
Stafford health issues.
And many more features...
BSL FIASCO!
A comprehensive series
Breed Specific Legislation (BSL), the lazy politician's simple-minded solution to a complex human/canine problem, has never worked and never will work. Get the real skinny at... Written in Stone.
---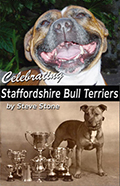 Limited supply of Steve Stone's book "Celebrating Staffordshire Bull Terriers" still available here. Go here to read more and order your copy. This book is no longer in print and we have brand new copies available.
Read what people are already saying about Steve Stone's Celebrating Staffordshire Bull Terriers:
"The photos bring back many memories of both personalities and Staffords... There are parts which will be of interest to serious students of the Breed and those wanting to know more of the history, yet there are light-hearted stories and reminisceneses for others and lots of photos." - Mary Pringle, Dog World
"Like the early authors John Gordon and Major Count V. C. Hollender, this book spans generations of history with information that entertains as well as enlightens. Steve Stone's approach is multi-layered and deals with issues as current as the daily news and problems as old as the breed. This book has it all." - Carolyn Stewart, The StaffordMall.com
"A very refreshing addition to what has been written previously about our breed. Something to be written about, talked about, argued about and even disagreed about, but essentially, something to 'think about' as it portrays so much which is where the place of the Stafford stands in this, the beginning of the twenty first century." - Jim Beaufoy (Wyrefare), Bewdley, UK
---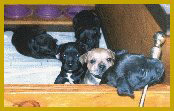 "Give me that poker."