Re-home and Rescue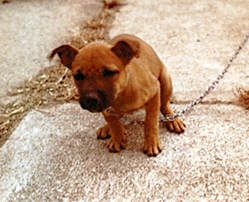 Love - Second time around
This is a free service that places Staffordshire Bull Terriers into a new home environment. These Staffords have been raised in loving homes and range in age from youngsters to mature adults. Their owners have found themselves facing difficult hardships and feel they can no longer provide their pet with the care they need and deserve. It is their earnest desire to find a new home for their pet with a loving and caring family.
If you feel that you may qualify to be a happy new owner of one of these Staffords please email or call us.
Email stoutheart_staffords@yahoo.com or call (510) 581-7491 to add a listing, respond to a listing or you may leave your name if you are interested in a future re-homing opportunity.
IN NEED OF RE-HOMING!!!
We hope to compile a list of names of those who are willing to give a Stafford a loving home. Let us know if we can be of any help to you and a Stafford in need.
Thank you for your help.
Carolyn Stewart
E-mail: stoutheart_staffords@yahoo.com
or phone: 510-581-7491 (San Francisco Bay Area, California, USA)
Other Stafford rescue/re-home contacts in the USA:
SBTCA Rescue (Staffordshire Bull Terrier Club of America)
National Rescue Coordinator
Kristina Estlund
e-mail: rescue@sbtca.com
In the United Kingdom (UK)
Staffordshire Bull Terrier Welfare
For Pit Bull - American Pit Bull Terrier (APBT) - American Staffordshire Terrier (Amstaff AST)
The Chako Rescue Association for the American Pit Bull Terrier
American Staffordshire Terrier Rescue
Adopt a Pit Bull at Adoptapet.com
Shorty's Pitbull Rescue Rescue