The Staffordshire Bull Terrier
A born fighter, the Staffordshire Bull Terrier (SBT) was the perfect combination of the Bulldog and the Old English Terrier of the seventeenth century. He possessed the strength and gameness of the Bulldog with the speed and agility of the Terrier. The performance of this cross was tested in the dog pit and therefore, natural selection, over a period of decades produced the perfect fighting machine.
Prior to the formation of the Breed Club in 1935, the Staffordshire Bull Terrier was commonly known as the Bull and Terrier or the Pit Dog.
Today with the abolition of the barbarous sport of dog fighting, the Staffordshire Bull Terrier has taken on a different breed type.
With the formation of the first Staffordshire Bull Terrier club in 1935, a standard was drawn. Jim the Dandy owned by Jack S. Barnard, was chosen as the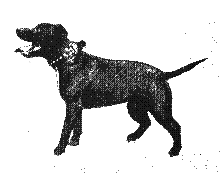 most perfect specimen of his time, and his breeding could be traced back thirty years or so. If we compare that standard with today's standard, and then compare the majority of today's show specimens with either standard, we can see that a contradiction of type exists, and that the Bulldog has been developed at the expense of the Terrier. We find this unacceptable, since the combination of both breeds was essential to producing a dog that was very unique and original.
Staffordshire Bull Terrier Characteristics:
Sound temperament
Indomitable courage and tenacity
Exceptional athletic ability
Trustworthy
Protectivee
Quiet and gentle by nature
Highly intelligent
Wonderful with infants and small children
Faithful companions
At Stoutheart Staffords we breed to preserve the old qualities of toughness, courage, tenacity, and type, without sacrificing the wonderful temperament that is still inherent in the Staffordshire Bull Terrier. We do not breed to give the illusion of power, but breed for true strength, character and agility. Our puppies are home raised and their temperaments and health are guaranteed in writing.
If you have any questions regarding this breed, or for puppies that are due or planned litters, please feel free to call or E-mail.

Terry & Carolyn Stewart
carolyn2557@outlook.com
Castro Valley, California 94546 USA
(510) 754-2557