Fewer But Better Judges
This is part of an article that appears on Sarah Hemstock's website. Sarah is the daughter of the founders of a very well known Stafford kennel prefix - Jolihem.
I had recently received this email from her:
"I intend to update my web page by the end of next week - please feel free to use any of the pictures/articles on your site but must be credited to the source."

Cheers,

Sarah Hemstock
So in honoring her wishes I give her full credit for the article that follows and the photos that are part of the Pedigree Archive for two of the Jolihem Kennel's most famous stud dogs Ch. Jolihem El Toro and Ch. Jolihem Dreadnought.
This article was first published in the Stafford Magazine (UK) 1997. The following article is based around correspondence published in "Dog World" newspaper earlier this year on an article entitled "Fewer But Better Judges."
---
Fewer but better Judges
The suggestion that there may be a connection between growing criticism of judges abilities and declining entries at Open shows is valid in my opinion. This may be due to the KC discouraging qualified Championship show judges from judging their breeds at general Open shows so novice judges have to be appointed. The same dogs are eligible to enter at both types of shows so why should the quality of judging be vastly different?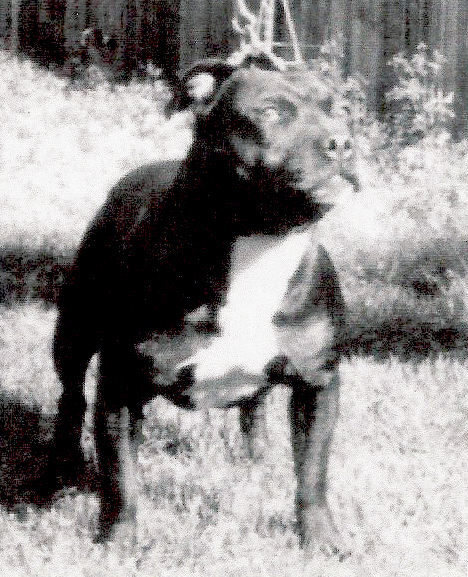 Ch. Jolihem El Toro
It is difficult to know where to draw the line - new judges need to gain experience, but the quality and quantity of entries is suffering. I agree that "fewer, but better, judges" would help the situation but in my view the selection of a judge should be based on the dogs that the prospective judge has owned, perhaps in conjunction with a series of theory and practical examinations, rather than the current selection system or exams alone. For example, a prospective Open show judge should at least have owned and campaigned winning dogs, such as a CC winning dog or a Stud Book Number winner.
Surely, if this criteria were to be introduced then it would prove to be a good assessment of a prospective judges "innate flair or gift" or "eye" which is an important characteristic of the competent judge. Judging is primarily a subjective process, but a competent judge with an "eye" should be capable of judging to type and hence use a more objective approach.
Sarah Hemstock