More Photos
---

Am/Can Ch. Brocliffe Warhawks Tuff
(Brocliffe Hard Bitter, CD x Warhawks Xaviera MacDonald)
Tuffy was owned by Robert E. Lee of Oakland, California. A very balanced example of the Bull & Terrier. Tuffy was about nine or ten years old in this photo. One of the winningest Staffords of all time.
---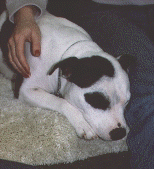 Peck's Miss Tuffy
(Peck's Brindle Bandit x Doomsday Chablis)
Shown here on the bench at the Cow Palace, which is a two day show. Wonderful pied bitch. Our first Staff.

She won best of opposite sex that day at the Cow Palace.
---

Ch. Stonefort Sadie Hawkins
(Ch. Peck's Chip Off The Block x Ch. Peck's Pimpernel of Stonefort)
Sadie was bred by Richard and Elizabeth Vroman of Los Gatos, California.
---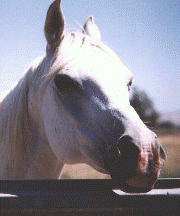 Ch. Royal Lad
(Great Lad x Bent)
The neighbor's very down faced Bull Terrier. All white. Notice the full prick ears. Also typical of Bull Terriers. Large eyes, good jaw muscles and large nostrils, just like a Stafford.
Just kidding of course. This is a horse. Royal Lad is a registered Arabian. He was a Top Ten Arabian Stallion at Scottsdale a few years back.
---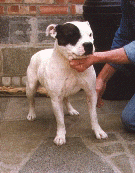 Rooney's Boy
(Benica Boy x Rooney's Lass)
This is the Sire of Single White Female, Pearl's and Daphne's Dam.
---

Benica Boy
(Firey Jack's Pet x MacStaff Sweet Delight)
Pearl's and Daphne's Grand-Sire.
---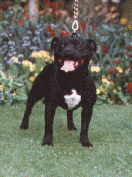 Ch. Yankeestaff Darchangel
(Urko Boy x Yankeestaff Guardian Angel)
"Murphy" is Hondo's Sire.
---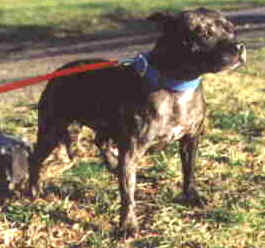 Bebe of Yankeestaff
(Lord Sunny Jim x Bulwark Circe of Yankeestaff)
This is Hondo's Dam.
---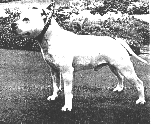 Eng. Ch. Silver Bomber
(Lawbury Cadiz Kid x Walswake's Tigre Bianca)
A much better photograph of this dog is on the cover of the book "Staffordshire Bull Terrier" by Dieter Fleig.
---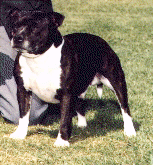 Ch. Peck's Chip Off The Block
(Ch. El Macho of Los Gatos x Trugrip Lydia)
Owners: Richard & Elizabeth Vroman
Breeder: Loretta Peck
---